In his next chapter, Rod Dreher spends a good bit of time singing a song I am very familiar with, and he says many good things. The cultural key is education, and what Dreher urges is, from one standpoint, very heartening. "This is why we have to focus tightly and without hesitation on education" (Loc. 2150).
But Dreher does not believe that a deracinated form of Christian education is going to cut it. If we will not have the option of living "a regular life with a Christian coating" (Loc. 2586), then how much less will it be adequate for us to build generic "schools" where an insipid prayer is still kinda legal. This is good, but is in tension with what he proposes elsewhere.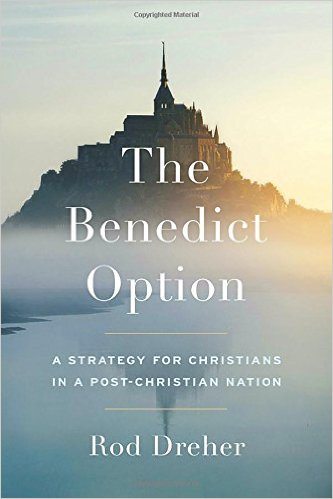 In contrast, Dreher points to "a growing movement called classical Christian education" (Loc. 2162). He goes so far as to say, "To that end, one of the most important pieces of the Benedict Option movement is the spread of classical Christian schools" (Loc. 2168). He says, rightly, "Classical Christian education is the new counterculture" (Loc. 2572). Not only is this the case for younger children, but "a Christian plan for higher education is also needed" (Loc. 2171).
"Through its Web site, the Association of Classical and Christian Schools (accsedu.org), an orthodox Protestant organization with members in forty-five states and four foreign countries, offers a how-to package, including a series of questions local communities https://classicalchristian.org/should ask themselves before starting this journey" (Loc. 2442).
All of this is very good, and I am grateful for Dreher's support of the movement. Not only so, but he also understands what is going on in the government school system—a radical program of catechesis for the new androgynous bipedal carbon units. He says, "it is time for all Christians to pull their children out of the public school system" (Loc. 2306).
But what about the "salt and light" argument? "It brings to mind a father who tosses his child into a whitewater river in hopes that she'll save another drowning child" (Loc. 2339).
Why don't you put your six-year-old on a plane to Nairobi? They need salt and light there. But we can't do that without training and preparation . . . Training, ah. Preparation, ah. Sounds like we need a Christian education first. Let's go with that then.
All of this is very good. That said, I do differ with Dreher's views on the size of the tent, at least as regards the school, the admin, and the teachers.
"While there are benefits to establishing a school under a particular tradition, there is also wisdom in taking a broad-tent approach, as long as the school remains under one of the ancient creeds" (Loc. 2408).
I would argue the lowest-common denominator approach to doctrine is one of the things that got us into this mess. If I were a Catholic parent, and there were no options in the community for my children, and I was enough of a Catholic parent to see that the secular school system is a hot mess, I would much rather put my children in a decidedly Protestant school than in a religio-friendly vanilla mush school. Who wants to hang out with a bunch of Judeo-Christians? And this goes to the point made by C.S. Lewis, when he said that individuals at the center of their communions often have better fellowship than the ecumenical glad-handers out on the edges of them.
All this said, this was a good chapter. The differences, for the most part, hover in the background—and relate to the fundamental difference I have with Dreher. Are we supposed to undertake a strategic retreat, or are we supposed to be establishing beachheads?