So I would like to invite you to read through The Benedict Option with me. For the most part we will go a chapter at a time, although this first time out we will take the Introduction and Chapter One together. For various reasons this is an important book, and how we respond to it is important. And how we process the issues it is addressing will be even more important.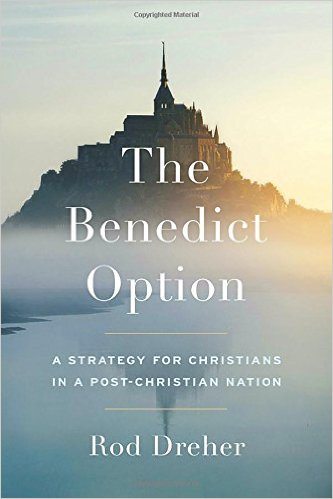 To his credit, Rod Dreher sees that things around us are pretty bad. To the extent that this book provokes Christians into that mindset called "not kidding ourselves anymore," it is all to the good.
Let's get the grim report first—"has now ended in defeat for Christian conservatives" (Loc. 83), "the light of Christianity is flickering out all over the West" (Loc. 132), "this may not be the end of the world, but it is the end of a world" (Loc. 135), "the swift and relentless currents of secularism" (Loc. 142), "the Waterloo of religious conservatism" (Loc. 147), "nobody but the most deluded of the old-school Religious Right believes that this cultural revolution can be turned back" (Loc. 192), "unwinnable political battles" (Loc. 199), and "if the demographic trends continue, our churches will soon be empty" (Loc. 157).
We should be grateful to Dreher for the wake-up call. Things really are bad.
But what kind of bad? Bad news could include the fact that you have bone cancer, or it could alternatively mention the fact that an asteroid is going to land on your house. Both of these things are sufficiently bad, but the remedial measures will look completely different in each case. And this means that before taking remedial measures, you have to decide what kind of bad you are up against. If it is going to be the asteroid, there will be no point standing on your front porch with a bottle of chemo pills.
Dreher appears not to have settled this crucial question in his mind, and unfortunately it affects his entire Benedict thesis. This is what I mean. In the ancient world, Christians were up against it in the first century, when Rome began her first persecution of the Christians, and they were up against it in the sixth century, when Benedict laid down his rule. But in the first case, they were up against a hegemonic, swollen, persecuting world power, and in the latter case they were up against the disarray and ruin that had resulted from the collapse of that civilization.
There is a difference, in other words, between a totalitarian surveillance state and a failed state. Now if I were seeking to prepare Christians for the coming hardscrabble times, it would matter whether I was preparing Christians in Beijing for another crack-down from the commies, or Christians in Somalia, preparing for a period of anarchistic foment and unrest. The difference in response is the difference between the catacombs and the cloister.
And the difficulty here is that Dreher has apparently not made up his mind. The Benedict illustration indicates that he believes that Christians will have to be rebuilding true community in the midst of sixth century rubble. But he says other things that would place us in the first century, with pagan persecutors at the height of their insolence and pride.
Here is the rubble option: "In these miserable conditions, the church was often the strongest—and perhaps the only—government people had" (Loc. 244).
And here is the intact and hostile power option: "if believers don't come out of Babylon and be separate" (Loc. 286).
Suppose we follow "the example of Saint Benedict" (Loc. 202) Will IRS men pursue us there? Suppose we imitate Christians of the third century, retreating ""to the Egyptian desert, renouncing all bodily comfort" (Loc. 228). Will there be men from the government there, requiring the monks to share the latrine with a goat-worshiping priest down the path, a guy the locals call Queenie?
Dreher speaks of barbarism and darkness. But is it the kind that Benedict faced, or the kind that Polycarp faced? Everything depends on the answer. Every practical decision we might face is going to be governed by the answer to that question. And Dreher is equivocal on the point—"the coming ages of barbarism and darkness" (Loc. 277), "to form communities within which the life of virtue can survive the long Dark Age to come" (Loc. 281), "a Dark Age that could last centuries" (Loc. 284). He is not equivocal on whether it is going to be grim. But I cannot make out what kind of grim.
If you are building in the rubble, you are in the position of Nehemiah. There can be some opposition from some local warlords, but the centralized power was a long way off. But if you are building in the belly of the beast, then your preparations have to include the understanding that all your activities, all your gatherings, all your efforts, will be illegal. If we "embrace 'exile in place'" (Loc. 291), and if we build a "vibrant counterculture" (Loc. 291), then we will have to do so on the lam.
Now I agree with Dreher, completely, that "we should instead work on building communities, institutions, and networks of resistance that can outwit, outlast, and eventually overcome the occupation" (Loc. 199). I agree also that those involved have to "respond creatively" (Loc. 251).
But a creative response has to settle on what the actual threat is. Do we send the flood engineers or the fire department? Are we up against a consolidated paganism, with centuries of spiteful life in her? Or are we up against a decrepit form of secularism, a polity with the staggers? Now I suspect that Dreher leans to the former, despite his ambiguity, and I am emphatically in the latter camp. This means, ironically, that I believe the Benedict scenario is on point, apropos and, as Augustine once put it in that pithy way of his, the butterfly's boots.
So I agree that "the post-Roman system was too far gone to be saved" (Loc. 279). I mean, their counterparts today don't even know what a girl is. They posture and yell a lot, but they don't have a clue.
"To live 'after virtue,' then, is to dwell in a society that not only can no longer agree on what constitutes virtuous belief and conduct but also doubts that virtue exists" (Loc. 260).
A relativistic society like this cannot sustain anything for very long. That would include persecution, incidentally. George Carlin once joked that he came from a neighborhood that was so rough that the Unitarians burned a question mark on his lawn. There is a reason the joke works, and in that reason is some reason to hope for safety.
"Could it be that the best way to fight the flood is to . . . stop fighting the flood?" (Loc.  197).
If fighting the flood means an attempt to restore a repristinated Leave It to Beaver America, then Dreher is exactly right. Save your breath for walking uphill, for those days are long gone. But if it means that it is futile to fight incoherent folly in the halls of power, then I think I have to differ. However, it is futile to fight secular folly with secularized Christian folly-lite.
And last, Dreher refers to "an unpopular truth: politics will not save us" (Loc. 288). This is exactly right, but it does not follow from this that politics cannot be saved. But how will they hear without a preacher?