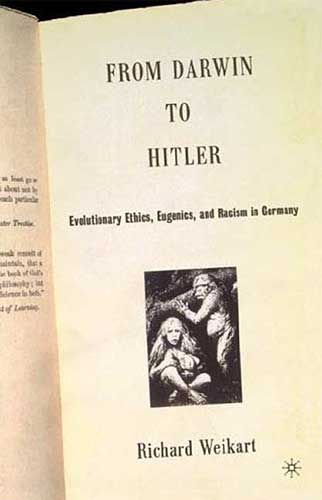 This book is why God gave us scholars. The connection between evolutionary Darwinism and "scientific" racism is a straight line connection, and Richard Weikart draws it carefully.
Weikart handles sensational material, but does not do so in a sensationalistic way. He produces so many damning quotes he has to deliver them with a forklift. But he is a quiet scholar, letting the historical information make its own appalling point. Occasionally, once in a while, he will deliver an understated aside in his own voice. But for the rest, it is just raw history — and for the dedicated evolutionist, a very unpleasant history.
Weikart says this, near the beginning:
"I also need to make clear from the start that this is a historical study. When I draw connections between Darwin, German Darwinists, eugenicists, racial theorists, and militarists, I am not thereby endorsing their logic — I leave it to the read to decide the logic of their case" (p. 9).
Having been thus invited, on my read, given their premises, the logic was sound. He who says A must eventually say B, even if B is atrocious. But they said it anyway.
The book provides a window into another time, yet another time when the "science was settled," and you were a buffoon on the wrong side of history if you didn't go along with them. It shows that the first century of Darwinism (and there have not yet been two centuries of it) was represented by men whose racial hubris and intellectual pride drove them all barking mad. But, in their defense, the science was settled. There's that.
So let me give you one quote, and one book plate illustration, both from Haeckel, the man who gave us the "ontogeny recapitulates phylogeny" wheeze, the idea that we all go through the varying stages of evolution in the womb. This concept also provided justification for abortion, by the way, because each individual has to evolve all the way up to the status of regular folks. A child in the womb is still at the "brute" stage and, if he doesn't want to get treated like a cephalopod, needs to get a move on.
Haeckel said this:
"The theory of evolution finally makes clear, that the 'eternal, iron laws of nature' of the inorganic world are also valid in the organic and moral world" (From Darwin to Hitler, p. 25).
Roll that around in your mind for a few minutes. And then run.
Here is the frontispiece from Haeckel's Naturaliche Schopfungsgeschichte. Remember that the science is settled.
In the eyes of contemporary Darwinists, it is, of course, mandatory for us all to draw a sharp distinction between Darwinism as a theorem in biology and social Darwinism, which wound up doing a bunch of wicked things to the planet. But why should we draw this distinction? If there is no God, we are just protoplasm that has gotten as far as the junior high school of meaninglessness, and what on earth do you mean by wicked?
The first chapter of this book is on the rise of moral relativism. Evolution produced its own ethic from inside — which had to be survival — and this was necessary because there was no longer any "outside" from which we might derive any objective meaning.
Weikart shows the attitudes that many believed Darwinism created on a host of related issues. What do we do with the less fit? Eugenics and euthanasia were intertwined. What about war and peace? A number of the Darwinists were militarists, but even the Darwinian pacifists were against the First World War, not because people were getting killed, but rather because the wrong people were getting killed. As soon as the superiors quit fighting among themselves, the lower races were going to have to fend for themselves, and the white Europeans were going to overrun the globe. What fun that would be! This is just the way it was. History had this inexorable mojo going.
Darwin's Origin was published in 1859, and the racist implications of that theory were widely held for almost a century after that point — and were significant factors in two World Wars. And the point was dropped more for PR reasons than logical reasons. Hitler was kind of a disastrous poster boy for racial purity. But the implications of the theory cannot be just waved away. Take this as an example in a book just recently published.
Any Christian pastor who wants to contribute meaningfully to the issues that swirl around cultural engagement needs to get this book. This is not a piece of antiquarian intellectual history. None of this has gone away yet, and will not go away until we get the bad root completely out.