Introduction
When controversies blow up, there are two things that must be done with them. One is to treat the controversy with the idea of stewardship in mind, seeking to be a faithful steward of whatever God has given you. Whenever God gives anything to His people, one of the things He wants to see happen is for them to turn a profit on it. This means that it is important to stay at your post and conduct yourself in the controversy with as much dignity as you have. Steward your controversies; invest the accusations against you. As John Piper might say, don't waste your incoming slanders.
But the second thing you should do is step back in order to get oriented to the larger picture. Try to get a better grasp of what is happening and why. As King James himself might have asked, "What goeth on?"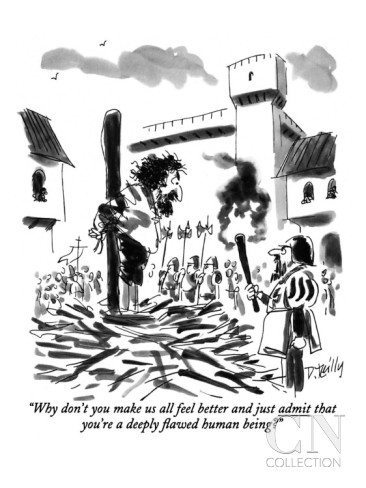 Sin
We are in desperate need of sin. We need sin — but by this I do not mean that we need to sin. I mean rather that we need the category of sin. This is because sin can be forgiven and all our substitutes for it cannot be forgiven.
In his essay on the humanitarian theory of punishment, C.S. Lewis points out that to treat a criminal as a wrongdoer, as a sinner, enables us to keep our response to him regulated and bounded by the rule of justice. But if he is "sick," then how long he is in "treatment" is simply a function of whether he has gotten "better" yet. You keep a man in prison until his justly assigned sentence is up. You keep a man in the hospital until he is "better," and no telling how long that might take. Let's leave that to the experts.
The same principle applies to the population at large. One writer recently pointed out that if you don't like someone, you call what they did "abuse," but if you like him you call it "brokenness." But what the two have in common is that neither one can be forgiven, neither one can have an assurance of pardon declared over them. But remember, Jesus died for our sins.
In controversies over abuse, victims, brokenness, and so on, this is why appeals to justice (i.e. let's find out what actually happened) so often fall on deaf ears. They don't care about executing the right prisoner. That is not what this is about. They don't need to find out if you were the culprit. All they need to know is whether you are the patient.
And this is why we need to come back to a scriptural definition of sin, which is rebellion against the holy law of God. Sin is lawlessness (1 John 3:4). And this is what brings us to . . .
America
God has a controversy with America (Micah 6:1-2). We are a sinful nation, in high rebellion against Him. We have been dwelling in a generation of unrighteous savagery, and we have done so while pretending to ourselves that we have in the midst of it remained a kind and benevolent people. We have flattered ourselves in quite a grotesque way.
But the record speaks for itself. We have been slaughtering the unborn for a full generation now. We have done this instead of receiving each child with kindness and hospitality, and we have done this to over fifty million children. Our blood guilt is consequently staggering. On top of that, it has now been revealed to us that the merchandising of these baby parts has become big business for us, and it is a big business we refuse to repent of.
As I write this, a new video from CMP has just been released. I will of course be writing more on that, probably tomorrow morning, but in the meantime, just remember that all parts are guaranteed "fresh," and also remember that the "headlines would be a disaster." But because the American ruling class is profoundly hard-hearted, representing the people well, the headlines have not been nearly the disaster that they ought to have been.
In addition to our blood guilt, we have established the utter fruitlessness of same sex mirage as the law of the land, in defiance of all decent law and custom, and we have set ourselves to drop the hammer on any individuals who fail to join in on the new mandatory festivities. We said, celebrate.
We have done this with a peculiar sort of ferocity. It is the kind of ferocity shown when a wicked people are tring to convince you of their shining righteousness.
And so here we now are, in the presence of our three-headed Amer-idol — orgasm, blood, and mammon. We get off, we execute any inconvenient by-product from our good time in bed, and then we figured out how to make a buck off it. The hippies used to tell us to make love, not war. But their peculiar confusions have led us to the point where we can make all sorts of things at the same time. We now make love, make war, and make money. We make babies, we kill babies, we sell babies.
Oh, and we denounce those who resist us as sociopathic monsters.
As Christians, our task is not to find a place in the shadow of this ghoulish idol, some place where we can carve out a space where we can live peacefully. No, our assigned task is to topple the idol, and never to make our peace with it.
This great guilt that has settled in upon us is a guilt that can only be addressed by a proclamation of the gospel, the message of Jesus Christ, crucified and risen. But He did not just die and rise to show His power. This was not just a marvel, yet another wonder. He died for sin (Rom. 6:10), and He rose for justification (Rom. 4:25).
This is why proclamation of the gospel has two parts. The first concerns the objective content of the gospel — what God has done for us as sinners. The contents of the Apostles Creed would be a wonderful summary of the message of the objective gospel in this sense. Christ born, Christ crucified, Christ risen, Christ ascended, and Christ pouring out His Spirit of forgiveness on a lost and truculent world.
But the second aspect of this proclamation is a demand that is made of every listener, of anyone hearing the objective content of the gospel declared. That demand basically says that God now commands all men everywhere to repent and believe.
What is he to believe? We have already addressed that. He is to believe the message of Christ given for us men, and for our salvation. But what are we to repent of? The biblical answer is that we are to repent of our sins. But this needs to be made more specific.
The Long Coal Train
Now one of the missions of this forum, this blog, is to declare the need for a massive cultural repentance. Not only is secularism both dead and impotent, but it is a dead sin. In other words, while we are no longer getting the return on that sin like we used to, this is not the same thing as repenting of the sin. We are like a drunk who can no longer taste the wine, and has to drink a whole lot more of it than he used to. But nothing tastes anymore.
We cannot make our secularism work, and we cannot bring ourselves to repent of our refusal to name the name of Jesus Christ. That's a bad place to be.
Someone must declare that this is a bad place to be, and someone must point the way out. The biblical vocabulary for this is repent and believe. This is a glorious mission, and I am not going to be deterred from it.
Think of this mission as a coal train, half a mile long, steadily approaching its destination. Think of the shrill opposition as someone organizing a coalition of about a hundred dogs to bark at the train. Or, rather, about ten of the dogs bark, and the rest of them give their barking quite a number of Facebook licks.
The great Puritan Thomas Brooks put it this way: "A gracious man should be made up all of fire, overcoming and consuming all opposition, as fire does the stubble. All difficulties should be but whetstones to his fortitude."
The Glorious Pivot
So when confronted with the frenzied spirit of accusation, that central tactic and technique of the father of lies, the only appropriate response is to declare the gospel, and to take refuge in the gospel by declaring it. This is why — all through last week's outcries — I turned again and again to the death of Jesus Christ for sinners. When I did this, I was not changing the subject. That is what all of this is about.
Jesus did not go to the cross as a well-respected rabbi. He died for us, that is true, but He was also cruci-defiled. He was cruci-defiled because God made Him who knew no sin to become sin on our behalf, so that in Him we might become the righteousness of God.
Someone might reply, sure, go ahead. Hide behind Jesus. Well, that is exactly what I intend to do. But when I hide behind Jesus, there are two senses in which I must do this. I am an awful sinner in my own right, and I know that if God were to mark iniquities, I could not stand for a moment. I know full well that the bit of filth named Douglas Wilson could have been justly consigned to eternal flames, and that I could have been consigned there for one of my better days. I know my sins right well. The only refuge for any sinner, including those who preach the gospel as I am bent on doing, is the Rock of Ages — "let me hide myself in Thee."
I also know my own sins well enough to know when agitators start making stuff up. And when they start making lots of stuff up, this should tell you that you are in another place entirely. This is the case even when real failings are involved. David gave occasion for the enemies of God to blaspheme, but he also knew that the reason they wanted to blaspheme so much was because of his righteousness. David was attacked with his sins, but he was not attacked because of them.
This is why it is necessary to hide in God's pavilion from the "strife of tongues." This is the second way of taking refuge in the cross of Christ. Many well-meaning Christians do not understand the play that is being run on them.
They do not comprehend the tactics of the adversary. They think that when the air is full of dead cats and slander, we must do something to "fix it." All who desire to live a godly life in Christ Jesus will be persecuted. When they say every horrible thing that they can think of, rejoice and be glad. Jesus said to do that. When some of your friends are foolish enough to believe the flurry of lies, rejoice and be glad. He said to do that too. Beware when all men speak well of you. When you have a great testimony, Jesus says that you ought to be careful. You are probably doing something wrong. You should at least check.
So no, there is nothing to fix. No, not at all. This is what we are called to. Jesus died outside the camp, and He died in a contemptible place. We are not told to bring that cross of His inside the city limits, silverplate it, and start leaving baskets of fruit in front of it. We are not told to bring that gibbet in so that we might make it fully respectable. We are told, expressly told, to go outside the camp to join Him there. "Let us go forth therefore unto him without the camp, bearing his reproach" (Heb. 13:13). Having to bear His reproach is not the sign of a broken play. This is God's play.
But in the meantime, the world runs on accusation. The world loves pointing a finger, loves creating victims, loves picking at the brokenness, and loves shouting at all the despicable sociopaths. Far easier than what the cross invites them to.