Unacceptabilify the Man Who Said Boobs on CNN
So Clay Travis of Fox Sports was being interviewed by Brooke Baldwin of CNN, and they were talking about ESPN, so the segment should already have had some crackle in it. But then Travis went on to say that he was a First Amendment absolutist, believing that only two things had never let him down in the history of our country, to wit, the First Amendment and boobs. He continued on, apparently being a serious man attempting to make a serious point, but Baldwin wasn't having any. She kept coming back to variations of what did you say?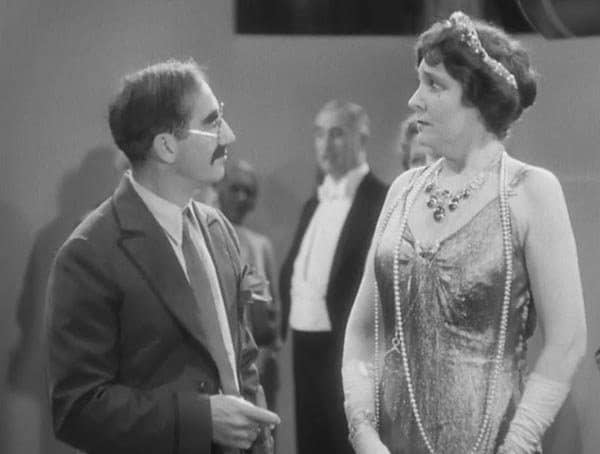 "Why would you even say that live on national television and with a female host? Why would you even go there?"
The episode was memorialized by @iowahawk by means of the image I have embedded to the right, and there has been, of course, a good deal of potheration, unacceptabilifying, throat-clearing, vexation of spirit, pearl-clutching, and so on.
An Explanation Called For
The bumfuzzlement has been pronounced enough that I thought I should try to explain things to everybody, using the helpful idiom that Baldwin used, that of "going there." I am not talking about a sports commentator "going there" on someone else's show, but rather want to point to the fact that our entire culture has been "going there" for quite some time now. In fact, we have been going there for long enough that we may safely conclude that we have now arrived. We have arrived, and have unpacked. We are settled in. This is where we live now.
And the point I desire to make is not really that complicated. It is that you can't go there, and remain where you were previously. It is one or the other, so to speak.
Put this another way. You cannot simultaneously live in 1952 and 2017. Moreover, you cannot toggle between those years, depending on who or what just offended you. If you have been a whole-hearted advocate of coarsening the culture, and of all things guaranteed to coarsen it further, you cannot really complain, at the end of the day, about the coarsened culture you now have. "How did this happen? Why weren't we informed?"
Let's conduct a little thought experiment, you and I. Let us try to imagine what kind of discourse, what kind of language, is acceptable in the CNN newsroom when the cameras are not running, when that little camera light is not on. What kind of all-purpose adverbs, beginning with the letter f, might we be accustomed to hear in casual conversation, whether or not a female host might be on set? Does anyone seriously think that the guy behind camera one might shush the guy behind camera two? "Sirrah! I pray you to please remember that there are ladies present." No, no, dear reader—you overshot by a century, and have confused the present year with 1852. No, no, dear reader—you are hallucinating.
We have had publishing events like 50 Shades. We have had raunchy routines from comediennes like Sarah Silverman. We have had rap artists cutting up their bitches. We have had reality television set ups that would clog the filters of a sewage treatment plant for a major urban area. We have gone from the time when Rhett Butler saying "frankly, my dear, I don't give a damn" was a national event, to the point now where it is a national event if the hostess of any given awards show doesn't fall out of her dress. Our ruling elites, pretty much all of them, are gathered on Lot's front porch, trying to find the doorknob while yelling incoherently about their incoherent lusts. Not only do they want to rape the angels, they are mortally offended that some sports guys said boobs on CNN.
In addition, and running concurrently with all of this, we have had unrelenting mockery for those uptight conservatives who have, for decades, been protesting the coarsening effects of all of the above. They are, of course, puritanical. They are uptight about sex, sexiness, sex ed, sex changes, and weird sexual pronouns. Their problem started early. They started having their censorious problems back when Elvis was swiveling and doing that thing with his leg.
Our Next Black Eye
But—and this is related to the point about 1952 and 2017—are we supposed to be puritanical or not puritanical? Are we supposed to be offended at crudity, or are we supposed to be liberated into crudity? These guys keeping changing the rules. Not only do they keep changing the rules, but they do so capriciously, arbitrarily. They change the "rules" in order to keep everyone off balance. I put "rules" in scare quotes here because they aren't really rules—they are simply the function of whatever it is our betters happen to be demanding in the present moment. They veer this way and that way so that normal people never know what to expect. I know this is true because the phrase normal people is now hate speech.
They are the abusive boyfriend who knows that the best way to control everybody around them is to be utterly unpredictable. No telling what might set off the next explosion. No telling how or where we are going to get our next black eye.
And what is sauce for the goose is not, according to the progressive gander, sauce for anybody else. Just for you geese.
But Chesterton says somewhere—and despite googling I couldn't put my finger on it—that the blunt word often condemns the sin while the polite euphemism carries excuses for sin everywhere it goes. And the blunt word is what the progressives have now liberated for us—but not exactly intending to liberate it for some of us. If we use our unconstrained liberty of speech to express a fixed moral standard, then they will do their level best to come down on you hard. This is how we have managed to combine, at all our official levels, an acceptance of the foulest speech coupled with censorious speech codes.
When the barriers come down, as they have come down, the hypocrites of the left want to control us by saying that they are the liberated ones of 2017, while we are all expected to behave as though it were still 1952. We must never speak in a way that upsets their project, even though their project is to upset and overturn everything else.
"But as Anthony Esolen has cogently pointed out, you can't have 'half a jungle.' You can't throw down all the walls and then wonder why there is no shelter any more. You cannot demand that everyone treat women as though they were men, and then cry foul because they are doing so" (Here).
They took a chainsaw to the orchard and are now wondering about the apple famine. You cannot fight for the right of women to swear like weaving sailors, and then, if you find they have heard something untoward, have them pull away their petticoats. And, of course, this brings to mind that prescient statement by C.S. Lewis:
"And all the time—such is the tragi-comedy of our situation—we continue to clamour for those very qualities we are rendering impossible. You can hardly open a periodical without coming across the statement that what our civilization needs is more 'drive', or dynamism, or self-sacrifice, or 'creativity'. In a sort of ghastly simplicity we remove the organ and demand the function. We make men without chests and expect of them virtue and enterprise. We laugh at honour and are shocked to find traitors in our midst. We castrate and bid the geldings be fruitful."[1]
Let us bring this back to Clay Travis, but just for a moment. He was apparently representing a worldview best described as a "good ol' boy appreciation of mammary splendor," which is a blinkered perspective. He was not looking at life from a biblical vantage, a fact I think we should all acknowledge frankly. But he certainly got everybody's back up, and he revealed a lot more of their hypocrisy than many earnest preachers do, however much they might sweat in the pulpit.
Small-Breasted Biddies: A Reprise
Let us be frank. Nothing will be achieved through pretense. Although I do not belong to the same school of thought as does Travis, I have offended the feminists (along with not a few Christians cowed by the feminists) in a related area, on multiple occasions.
"So feminism — smash the patriarchy feminism — wants us to be ruled by harridans, termagants, harpies and crones. That sets the tone, and the pestering is then made complete by small-breasted biddies who want to make sure nobody is using too much hot water in the shower, and that we are all getting plenty of fiber. And if anyone reads these words and believes that I am attacking all women by them, that would provide great example of why we should not entrust our cultural future to people who can't read" (Here).
"We like the word authentic, but we detest the reality. A fading beauty in Beverly Hills walks into an upscale bistro, her skin stretched out with botox, her breasts as fine a pair as DuPont could make them, her hair the color of nothing found on earth, and yet she double checks with the waiter (twice) to be sure that her salad will have hormone-free chicken. Why? Either because she is committed to going all natural, which would not seem to be the case, or because her table is only big enough for one hormone queen. She is insisting that the chicken be the authentic one" (Here).
"And briefly, the last distinction we must have is the distinction between the wise and intelligent women who understood exactly what Wilkin was getting at, who have dealt with real instances of such a haunting, and who actually have had a bloviating pastor modulate into his 'pastor voice' when answering a simple question, and the clueless women who blindly liked Wilkin's article on Facebook, but who are themselves pushy broads, twinkies in tight tops, or waifs with manga eyes" (Here).
What am I doing here? Or, as some might want to put it, what do I think I am doing?
On Eating Their Own Cooking:
The demands of the current politically correct sensibilities are not customs or mores exactly. They do not rise to that level. They are arbitrary and contradictory. In the old days, if you violated a societal norm or rule, the discipline could be hard, but it was usually consistent and clear. Now, in these crazed times, while it is certainly true that you can run afoul of the authorities, the experience is more like encountering a tether ball in a tornado. The modern despots of the dictionary will get you for anything—and are willing to come at you from any direction.
But their power comes from the fact that people are trying to obey them, as though this were still something like the old order. People (especially cowed Christians) still try to be good, and still try to follow the rules, as though there could possibly be rules in this postmodern fun house. There are arbitrary diktats, and they are enforced, often fiercely, but the only thing that makes them so fearsome is the authority we cede to them. But these people are madmen, and consequently nothing should be ceded  to them, nothing whatever.
Now if you were to ask me which society I would prefer to live in, one where society had set rules and reasonable norms or the society we have now, I would most definitely prefer the former. Not only would I prefer the former, but I would even take it with all its ridiculous little inconsistencies. For example, one time Winston Churchill was over here in the States and was attending a dinner—he was going through the line, and they were serving chicken. He asked if he could please have a chicken breast, and so the hostess apologetically explained to him that over here, we did not say "breast," we said "white meat." Churchill apologized fulsomely for his gaffe, and the next day the hostess received the gift of a very nice corsage, along with a note that requested that she be pleased to pin it on her white meat.
Not only would I prefer that society, but on the whole I think I would behave at better-than-Winston levels in it.
But in the society we actually have, in this chaotic place where the Gramscians have brought us, our arbiters of approved speech insist that they be the only ones allowed to shock, and that we be the ones to be dutifully shocked. In response to this proposed arrangement, I cheerfully refuse. I refuse to accept their authority in any of this, and I fully intend to make sure that they get an opportunity to eat their own cooking.
So if someone with a long enough face to be a dowager from Human Resources tells me that I am no longer permitted, as a cis-white-male, to make any observations or comparisons, metaphorical or otherwise, about any aspect of the female anatomy, guess what I am going to do? Guess what my next blog post is going to be about?
Go on, guess.
And don't bother trying to tell me that I am being a troubler of Israel. That is what Ahab said to Elijah. Right. The guy who imported all the idols and brought the wrath of Heaven down on his nation, he is the one who wanted to pretend that the man who opposed it all from the beginning should take responsibility.
So the issue before us is not men or women. It is not bodies. It is not social mores or customs. Three cheers for all of that. It is that our new overlords are radical hypocrites, coupling their sham concerns about authenticthisnthat with a wholehearted promulgation of inauthenticthatnthis. And as long as Christians try to pretend that this radical relativism is just another set of societal norms, the longer it will be before we recover our sanity. And the surrounding culture will never recover its relative sanity unless the church recovers its grounded sanity.
There is always more than can be said about stuff like this.
Notes
[1] C. S. Lewis, The Abolition of Man or Reflections on Education with Special Reference to the Teaching of English in the Upper Forms of Schools (HarperOne, 2001), 26.