It would not be exactly accurate to say that I posted my 21 theses on submission in marriage and then skipped town. But there would be some elements of truth in such a hazarded guess nonetheless. I wrote the post last week, and scheduled it to appear Monday morning. But then Sunday after church, Nancy and I bolted for the Oregon coast, where we spent a very pleasant time looking at the sun go down, walking the beach, sitting on the beach, finding a place for lunch . . . all that arduous business.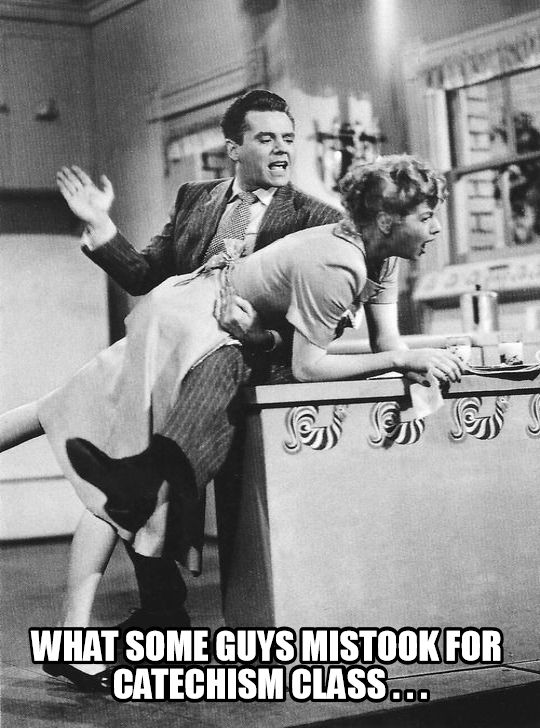 Upon returning, I axed one comment for being abusive, and spent some time meditating on how to respond to the suggestion that had broken out in my comment thread that I was something of a closet feminist because of my failure to come right out in support of corporal punishment for wives. In the other peanut gallery, a discussion broke out on Facebook over my statement that submission was an erotic necessity, running along the "shades of 50 shades!" line. Maybe I had come out in favor of corporal kinky punishment for wives. Who's to say? Reading what somebody actually wrote is so tedious.
Let me deal with this second misconception first with an appeal to my mentor on this subject.
"You do not fail in obedience through lack of love, but have lost love through lack of obedience . . . No one has ever told you that obedience—humility—is an erotic necessity" (That Hideous Strength).
Life at Belbury is one extended orgy of biting and devouring. In contrast, life at St. Anne's is a staggering hierarchy of masculinity and femininity running all the way up, and with a sexual element included where appropriate. There is one horrific scene between Wither and Frost which ends with them in a clinch driven by the lust of mutual animosity, each knowing that at some point a devouring must happen. The corresponding scene is between Ransom and Merlin, and ends with Merlin kneeling, rendering honor like a loyal king's man. "Slowly, ponderously, yet not awkwardly, as though a mountain sank like a wave, he sank on one knee; and still his face was almost on a level with the Director's."[1] No devouring at all.
And the reconciliation between Mark and Jane is profoundly Christian. She has learned the humility of true submission. Her entire life had been driven by the desire not to be taken in, not to be possessed. His had been nothing but the driving lust to be included in the next inner ring, filled to the brim with false promises. Her fundamental submission comes when she surrenders foundationally to Maledil.
"In this height and depth and breadth the little idea of herself which [she] had hitherto called me dropped down and vanished, unfluttering, into bottomless distance, like a bird in a space without air."[2]
But this is not treated by Lewis as Mark Studdock's standing permission to continue on as an oaf and a coarse rube, barging into her sexually, but now with impunity because she had become "submissive." No, his frame of mind has been explicitly transformed.
"This time at last he thought of his own clumsy importunity. And the thought would not go away. Inch by inch, all the lout and clown and clodhopper in him was revealed to his own reluctant inspection; the coarse, male boor with horny hands and hobnailed shoes and beefsteak jaw, not rushing in—for that can be carried off—but blundering, sauntering, stumping in where great lovers, knights and poets, would have feared to tread . . . How had he dared?"[3]
How had he dared? His wife, although a sinner, was a very great lady. He, though a very great sinner, was to return as her lord. But it is not the case that humility is required for a wife to assume her station, but pride will do for the husband. Mark now knew better than that.
"He knew now what he must look like in the eyes of her friends and equals. Seeing that picture, he grew hot to the forehead, alone there in the mist. The word Lady had made no part of his vocabulary save as a pure form or else in mockery."[4]
There is a parallel passage in Preface to Paradise Lost where Lewis describes the humility of Portia, describing herself as a poor unlettered girl, with some modern male booby walking into Belmont and taking her statement at face value. One's forehead reddens to think of it, Lewis wrote. It most certainly does.
And so I get a big kick out of moderns—we who do not even know which bathroom to use—learnedly discussing how Lewis was limited by the perspective of his times. Look. Lewis was an old Western man, standing on the other side of a vast chasm that separated him from his times. His erstwhile critics, meantime, have only managed to get about 20 millimeters away from the spirit of their times.
But enough with that kind of foolishness. Let us address another kind.
So now we come to those who say that if a husband doesn't have the right, nay, sometimes even the responsibility, to exercise corporal punishment on his wife, then one of the tools for ensuring domestic tranquility has been taken away from him. Further, he might argue, anyone who objects to said physical discipline for wives must be one of those newfangled softie men, catechized by all the lies of feminism.
This is the kind of guy who, exasperated by a sluggish app on his smart phone, essays to fix it with a ball-peen hammer.
I am far from denying the biblical truth that a rod is for the back of fools (Prov. 26:3). Nor do I deny that a woman could be numbered among such fools. But such a woman would be far gone in her folly, and the only fool bigger than that would be the guy who married her. So before we beat her for her uppity rebellions, I would suggest we flog him for being such an idiot. If he were to object that this is mean-spirited and unjust, I would reply that it sounds to me that he has been influenced by the spirit of egalitarianism. Must be one of those new softie men.
Since the difficulty was apparently found in my #11, let us discuss that for a moment.
"The Bible does not teach husbands to enforce the requirement that was given to their wives. Since true submission is a matter of the heart, rendered by grace through faith, a husband does not have the capacity to make this happen. His first task is therefore to love his wife as Christ loved the church. He is to lead by example."
The key words here are enforce and make. No mortal can force such a thing. It does not come from right-handed power. But husbands can love and lead their wives. A husband can love, and Scripture teaches that this kind of love is efficacious. Love bestows loveliness. Husbands cannot duplicate the Lord's substitutionary atonement, but husbands are most certainly commanded to imitate it. And when they imitate it as they ought, the results are not—work with me here—a beating for the little missus. And a man who thinks it is just demonstrates how far away from the spirit of the gospel he actually is.
The Bible does set before us a hierarchical world, but we are not to conceive of this as a cascade of commandments, flowing ever downward, drowning those at the bottom. Rather, it promotes and elevates those at the bottom. Remember what the gospel does.
But there is an optical illusion here. At some point in every husband/wife relationship, there will be a clash of wills. When that happens, it is often the case that the husband gets owned and he loses. Let us be blunt, and call it what it is. However, we live in flattering times, and he has been given sufficient cover by the church to retreat demurely into his designated background, and to call what he is doing "servant leadership."
That kind of weakness is not what I am commending. It is not how Christ loved the church. But it is a mistake of the highest order to think that the opposite of this kind of cowardly coyness is to stand on the recliner in one's man cave beating one's chest. That is not how He loved the church either.
So authority flows to those who take responsibility. Authority flees those who seek to evade responsibility.
NOTES
[1] C. S. Lewis, That Hideous Strength, EPub Edition, vol. 3, Space Trilogy (HarperCollins e-books, 2012), 271.
[2] C. S. Lewis, Words to Live by: A Guide for the Merely Christian, ed. Paul F. Ford, Adobe Digital Edition (HarperCollins e-books, 2009), 266.
[3] C. S. Lewis, That Hideous Strength, EPub Edition, vol. 3, Space Trilogy (HarperCollins e-books, 2012), 379.
[4] C. S. Lewis, That Hideous Strength, EPub Edition, vol. 3, Space Trilogy (HarperCollins e-books, 2012), 379.