Show Outline with Links
Introduction
So a gent named Brandon Adams recently tackled the whole Federal Vision thing as it relates to some of our Reformed Baptist friends. It is clear from how he writes that he means and intends well, and is trying hard to get it right, but unfortunately he is stymied in this admirable effort by what I like to call "paradigm bumper cars."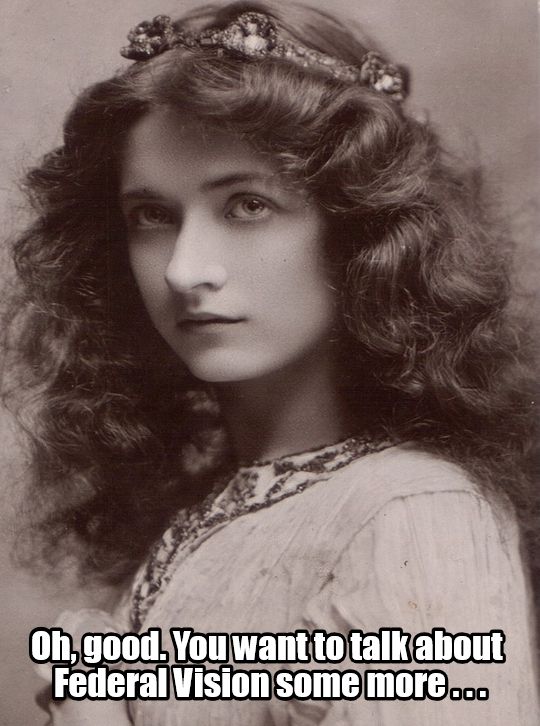 My friend and colleague Toby Sumpter responded to his piece, and Brandon's good will can be seen in the fact that he is willing to engage in a real discussion in the comments section of Toby's blog. I will leave the comments section open on this post in case he wants to do the same.
Consider this an exercise where I discover that I still have some Federal Vision gum on my shoe.
Wrong-footed by Scott Clark
Brandon, and I hope he doesn't mind me calling him Brandon, begins by noting how unreliable Scott Clark is. He mentions how Clark blocked him online years ago, and how it should be apparent that Brandon is not writing as a Clark fanboy.
But then Brandon asks this question: "But does that mean everything [Clark] says is wrong?" This is just tremendous irony because this is his lead-in to Clark's summary of the Federal Vision, a summary in which (as regards me) he gets everything wrong. Here it is:
There is no covenant of works before the fall. The covenant of grace was established before the fall and continues after the fall.
The conditions of the covenant with Adam are the conditions for Christians: faithfulness.
Because there is no distinction between those who are in "the covenant" only externally those who are also in the covenant internally, at baptism every baptized person is endowed with all that we need to persevere and retain what we have been given.
Those who cooperate sufficiently with grace will finally persevere and shall have been elected.
It is possible for those who were truly united to Christ to fall away (apostatize).
Now I don't believe that Clark gets everything wrong throughout the entire course of his life. But here, as it regards me and my doctrine, he is 0 for 5. I repudiate all five of these tenets. All five. And yet Clark would identify me as one of the chief Federal Vision villains. It is apparent that Clark either does not know what the Federal Vision is, or what I believe, or quite possibly both.
So remember that Brandon introduced this 0-for-5 venture with the question of whether Clark gets everything wrong, right before a citation in which he gets everything wrong.
I interrupt this discussion to wonder out loud how on earth a seminary professor at a respected and established seminary can get away with being so sloppy and so careless and so loose. So thunderingly wrong. And I get that there are probably political reasons and personal relationships and other complicating factors that might prevent the honchoes at Westminster West from just telling Clark to put a sock in it. But I think the seminary needs to come up with something. I mean, this is getting embarrassing. Something like telling Clark that he must either debate someone on these issues publicly (and I would do it in a hot minute) OR he must pipe down. Either Clark must defend his thesis like an actual scholar OR he must put his thesis where the monkey put the nuts. They don't have to phrase it that way, of course.
So that you don't have to guess . . .
I don't like the name covenant of works because I believe it is misleading, but I do believe that God made a covenant with Adam in the garden, and that it was a different covenant from the one He made with us in Christ. I am not a monocovenantalist. I believe there have been two covenants made with man, one before the fall and another one after. For the prelapsarian covenant, I prefer the name covenant of life (which the Westminster Confession also uses), or the covenant of creation.
The conditions laid down for the two covenants are different. Adam was told not to eat from the tree of the knowledge of good and evil, and we are told to believe that God raised Jesus from the dead. These are different conditions.
There is an absolute distinction between those who are in Christ externally and those who are in Him internally, that is, those who have the root of the matter in them. I believe that it is pernicious and false to say that at baptism each member of the covenant has been given all that he needs in order to persevere. If a covenant member is unregenerate he has nothing of what he needs to persevere.
There is no "shall have been elected" stuff. God elected His own from before the foundation of the world, and the number of the decretally elect was settled before any of us were born, and the number of the elect cannot be increased or diminished. The elect do persevere in holiness, but they persevere because they are elect. They are not elect because they persevere.
It is not possible for those who are truly united to Christ to fall away. Only the elect are truly united to Christ, and none of the elect can fall away. There is such a thing as a connection to Christ that can be lost, but this is the connection to the visible church, the visible covenant, the external body of Christ. It is a genuine connection (see John 15 and Romans 11), but it is not the same efficacious union with Christ that the elect are given at regeneration. It is qualitatively different.
Now back to Brandon. To summarize, Brandon grants at the outset that Clark is an unreliable guide. But then for some reason he lets Lucy hold the football one more time, just this once, and he finds out that Clark is a supremely unreliable guide. Brandon tries to cover this by linking to a place where he thinks I "walk back" certain things.
But I have been clear on all these things for lo, these many years. I have had a significant pile of things attributed to me which I hotly deny, and then, when my denials start to get through, somebody says, "well, why didn't you say so?" Or they say that they are glad that I have finally started to repudiate my errors.
I am a Westminsterian Puritan, and have been throughout this entire controversy. There is one significant place (and only one) where I do hold to something which has not been part of the Reformed mainstream (child communion), but even there I am not without company (see Wolfgang Musculus). But this ought not to be a problem for Reformed Baptists—because for them child communion is no bigger reach than paedobaptism is. If they can fellowship with Presbyterians at all, they should not trip over this. If anything, Baptists think those of us who practice child communion are being more consistent on this point.
Another quick point. If I am as Reformed as all get out, which is true enough, then why did I write a book entitled Reformed Is Not Enough? Hmmm? But actually I did not. I wrote a book called "Reformed" Is Not Enough. There is more to being Reformed than to be a soteriological Calvinist and an American evangelical. But in retrospect, I should have been more aware of how easy it was going to be for adversaries and critics to treat those scare quotes as though they were part of the invisible church. But the scare quotes were there for a reason, and it was an important part of my point.
A Brief Word on Norman Shepherd
So here is my connection to Norman Shepherd. I met him once at a conference, briefly, and we chatted amicably for a few minutes. He was scheduled to speak at the first Auburn Avenue conference, but couldn't make it because of his wife's health (if I remember correctly). I read Gary North's defense of him (Westminster's Confession) back in 1991, and I read Shepherd's book Call of Grace in 2001, published by P&R. That's basically it.
But Brandon simply assumes that I am following Norman Shepherd when I am not. He says, for example, "Wilson follows Shepherd in rejecting" the law/gospel distinction. But I don't reject the law/gospel distinction. I reject a law/gospel hermeneutic. In the experience of a sinner being converted, I absolutely believe in the law/gospel distinction. The rich young ruler thinks he is hot stuff, and so Jesus puts some bricks of the law into his backpack. Give your wealth to the poor, you who have kept "all" the commandments. He had not kept them all because the covetousness prohibited by the tenth commandment was clearly a hang up for him, a problem that Jesus highlights through what he told him to do. Jesus prepared him to receive the gospel, which I believe he later did—I think that the rich young ruler was John Mark, but discussion of that would take us too far afield.
I grant that this could be confusing, and so great care is needed. Shepherd and I (and others) were talking about some similar questions in Reformed theology that really needed to be discussed. But the fact that we were tackling the same or similar problems does not mean that we came up with the same answers. My answers are definitely not Shepherdian. And I am not a neonomian. I am a Westminster "general equity" theonomist. And I stoutly affirm the doctrine of the imputation of the active obedience of Christ. Why is this so hard?
And with regard to the covenant of life in the Garden, the condition given to man there was obedience. Don't eat from the tree. Adam was told to keep the law, but he broke it and his disobedience condemned us all. The second Adam obeyed where the first Adam did not, and he was crucified on a tree. And we are now commanded to eat from that tree. Our food is His broken body. The first covenant was dependent upon the obedience of the first Adam, and he failed. The new covenant is dependent upon the obedience of Christ, and He did not fail. And we participate in the obedience of the second Adam by faith alone.
Someone might say that they have heard me say that the faith that alone appropriates the life and obedience of Jesus Christ is a living faith, and this makes them think I must be trying to smuggle in autonomous human works. But of course it is living faith. It is the faith that God gives to us, and living faith is the only kind of justifying faith that God has ever given. Justifying faith "is no dead faith, but worketh by love" (WCF 11.2). I quote Westminster here instead of Scripture because "Reformed" is clearly not enough.
Brandon thinks that my enthusiastic support of the doctrine of the imputation of Christ's active obedience is an inconsistency in my theology, but it is actually an inconsistency with what Brandon has erroneously assumed to be my theology.
Last Little Bit
All the citations that Brandon produces show that he really has read extensively in what I have written on these things, and he is laboring hard to get it right. But I believe that it is also clear that he has come to the project with a set of paradigm blinders on, and this makes him an unreliable guide. This prevents him from seeing what is obviously there. He does want to get it right, but he has missed by a mile.
And that is why he comes to such a harsh conclusion, one that is not justified by the record at all.
"At best, Wilson is thoroughly confused on the gospel, having been deceived by Shepherd's false teaching. At worst, he is a wolf 'speaking perverse things, to draw away the disciples after themselves.'"
Keep your eye on the ball. I believe that this FV issue continues to be an issue because of the doctrinal downgrade entailed in wokeness that is currently swamping Reformed evangelicalism in general. It is a distraction. I am one of the few voices raised in effective opposition to all of that woke foolishness, and so these canards are being resurrected again in order to dampen any thoughts that any of you might have about the propriety of following me into battle.
You know, the actual battle.